MFL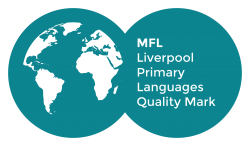 In November 2019 we achieve the Liverpool Primary Languages Quality Mark.
At Pleasant Street Primary School we believe that the learning of a foreign language provides a valuable educational, social and cultural experience for our pupils. It helps them to develop their ability to communicate, including key skills of speaking and listening. It provides excitement, enjoyment and helps children to develop positive attitudes to language learning throughout life. Learning another language gives children a new perspective on the world, encouraging them to understand their own cultures and those of others. The natural links between languages and other areas of the curriculum can enrich the overall teaching and learning experience.
The language offered at Pleasant Street Primary School is Spanish and we provide age-appropriate learning opportunities for all children in KS1 and KS2.
Aims and objectives:
The aims of Primary Languages teaching at Pleasant Street are to:
Foster an interest in language learning by introducing children to other languages in a way that is enjoyable and accessible to all pupils.
Stimulate and encourage children's curiosity about language and creativity in experimenting with it.
Support oracy and literacy, and in particular develop speaking and listening skills.
Help children develop their awareness of cultural similarities and differences.
Lay the foundations for future language study by pupils.
Provide an added perspective on first language teaching and learning.
Give an extra dimension to teaching and learning across the curriculum.
EYFS and Phase 1 Spanish Journey

Spanish LTP

Spanish Progression Map

Useful Websites 
Duolingo – An excellent website which you can use to learn a new language.