Computing
At Pleasant Street Primary School, we believe that developing computing skills are vital for a successful future for our children. In an ever-changing world where technology is often leading the way, we aim to develop confidence and enthusiasm to explore computational thinking and ensuring that all pupils;
can understand and apply the fundamental principles and concepts of computer science, including abstraction, logic, algorithms and data representation.
can analyse problems in computational terms, and have repeated the practical experience of writing computer programs in order to solve such problems.
can evaluate and apply information technology, including new or unfamiliar technologies, analytically to solve problems.
are responsible, competent, confident and creative users of information and communication technology.
We ensure that all pupils are provided with activities and experiences that may not be accessible for all children. As a school, we own our own set of virtual reality headsets; providing us opportunities to create an immersive learning environment across the curriculum. We also give children opportunities to use Computer Aided Design (CAD) programs to create products on our 3D printer.
We ensure that all children feel safe when they are online and they are aware of how to use new technology, including the internet, safely. As a school, we believe a child's well-being is paramount and that we have a duty to safeguard and promote the welfare of the children.
Software our school offers and promotes;
3D Printing and CAD
Virtual Headsets
MergeCube
VirtualiTee
BeeBots
Sets of iPads per phase
Computing Long Term Plan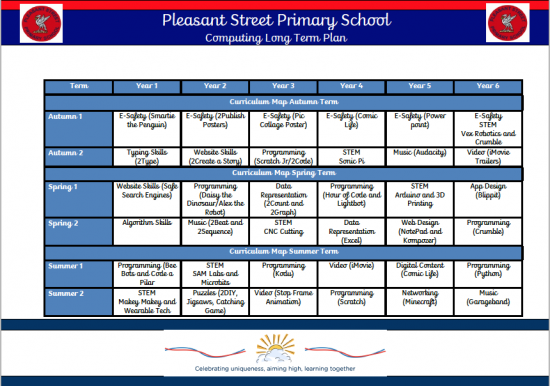 Useful Documents
Vodaphone Digital Parenting Guide
Useful Websites 
Blockly Games – A fantastic website for future coders.
Scratch Website –  A free programming language and online community where you can create your own interactive stories, games, and animations.
Hour of Code – A brilliant website for all ages to work on their coding skills.
For information and advice about how to keep you and your family safe online please visit our Online Safety page by clicking this link.